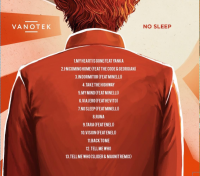 DJ-ul și producătorul Vanotek lansează primul album din carieră – "No Sleep" – care cuprinde cele mai cunoscute piese:  "Tell Me Who" feat. Eneli, "În dormitor" și "My Mind" feat. Minelli, "Take the Highway", "I'm Coming Home" feat. Georgian & The Code sau "My Heart is Gone" feat. Yanka.
Vanotek, pe numele său Ion Chirinciuc, este un tânăr producător și DJ, cunoscut pentru piesele care au urcat rapid în topurile muzicale din România.
El a urcat pe scene importante precum festivalul Untold sau Neversea, fiind și opening act pentru Carla's Dreams la cele două show-uri susținute la Arenele Romane.
Albumul "No Sleep" va fi disponibil pe 22 noiembrie.