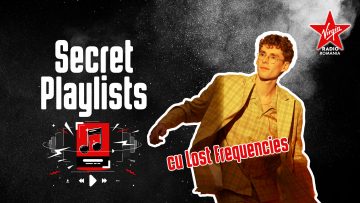 "Tell me what music you're listening to so I can tell you who you are." An adapted saying, which is suitable for a new music section on virginradio.ro. Secret Playlists aims to explore the most intimate corners of the music universe of your favorite artists and more. Childhood memories, sources of inspiration, influences, music to listen to at home or guilty pleasures: you will get to know the stars through their personal musical universe, perhaps exposed for the first time to the public.
If you were to ask Romanians who their favorite DJ is, you will most likely get a lot of answers. From the most famous to those from the underground. One thing is for sure: one of the DJs who gathers the whole audience in front of the stage, who makes you stay with him until sunrise and who makes you come back next time, is the one and only Lost Frequencies!
Because we wanted to get to know him better, we talked to him about the music he listens to. He recently released a new song, "Where Are You Now," featuring Calum Scott. If you're listening to Virgin Radio Romania, it means that you have already heard it. If not, check it out right now!
Those being said, let's start, exclusively in Romania, Secret Playlists with Lost Frequencies!
Virgin Radio Romania: The album that brings back childhood memories
Lost Frequencies: I think it would be 'The Best of Bob Marley & The Wailers' – my parents were big Bob Marley fans and being introduced to his music with tracks such as 'No Woman, No Cry' which are such classics to everyone really informed my tastes even as a child.
Virgin Radio Romania: The artist who inspired you to follow a musical career
Lost Frequencies: Avicii was a big inspiration me, showing how its possible for an artist coming from an electronic/ dance scene can extend to pop, country and more, not just through his huge tracks like 'Levels' but others including 'Blessed' really inspired me early on.
Virgin Radio Romania: The track you've been obsessed by lately
Lost Frequencies: 'Never Going Home' from my buddy Kungs has been really lighting up my sets recently, it's such a high-energy, feel-good track and I was lucky enough to be asked to add my own spin on a remix for him, too!
Virgin Radio Romania: The artist you'd listen to on repeat without getting bored
Lost Frequencies: Flume – I've always been a huge fan of everything he does, a true original in the modern scene who is doing his own thing with style.
Virgin Radio Romania: The young artist that you feel he/she would have a blasting career in the near future.
Lost Frequencies: Lackmus is a super talented artist from Germany that I've had my eye on recently, he released his Found Frequencies (my label) debut with 'Take Me' that is this deep, simmering track that also leans into a progressive style that I'm a fan of. Expecting big things from him in the future!
Virgin Radio Romania: The album you listen every time you spend a relaxing Sunday evening at home.
Lost Frequencies: That would be 'Con Todo El Mundo' by Khruangbin. I've seen them a couple of times already and their second album keeps bringing me back to the first time I saw them performing; they sprinkle some snippets of words but their melodies and guitar solos are just amazing to spend your Sunday with, accompanied by a coffee and the newspaper. Slowly, but with an overall vibe to continue through the day.
In the end, we asked Lost Frequencies to share with us a playlist of his all-time favorite songs. You can find it right here:
Follow Lost Frequencies on: