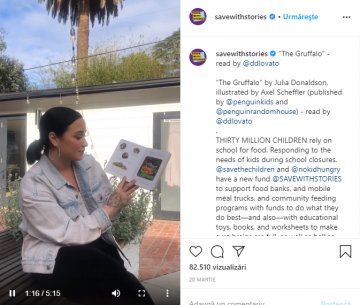 Mulți actori de la Hollywood, dar și cântăreți  s-au filmat citind povești copiilor.
Pentru că tot stă în casă și are mult timp la dispoziție, Demi Lovato a ales volumul "The Gruffalo" pe care l-a citit și apoi a postat video-ul pe Instagram.
Acesta a fost văzut de peste 82.500 de ori.
În acest fel, Demi Lovato face parte din proiectul #savewithstories, lansat de cei de la Salvați Copiii.
Organizația internațională încearcă astfel să strângă bani pentru salvarea unor copii de la foamete.
Actorul Chris Pratt, devenit celebru cu rolurile din "Jurassic Park" și din "Gardienii Galaxiei", a postat o înregistrare în care citește împreună cu soția lui.
Este vorba despre volumul "Maverick and Me"! Video-ul lor are aproape 95.000 de vizualizări.
Jennifer Garner, care le-a mai citit cărți copiilor americani la școală, a fost prima vedetă de la Hollywood implicată în proiectul #savewithstories.
Ea a citit povestea "The Three Little Fish and the Big Bad Shark".
Pe pagina pe Instagram #Save with Stories s-au strâns până acum 125 de postări ale vedetelor de la Hollywood.