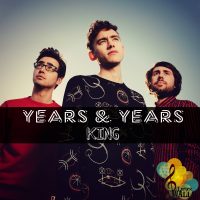 "King" a fost lansat în 2015, ca single al albumului de debut "Communion", al trupei britanice Years & Years. În Marea Britanie, a debutat pe primul loc în topuri, iar în ţări ca Australia, Austria, Bulgaria, Danemarca, Germania, Luxemburg, Olanda şi Elveţia a ajuns în top 10.
Versuri Years & Years – King
I caught you watching me under the light
Can I realign?
They say it's easy to leave you behind
I don't wanna try
Cut cover, take that test
Hold courage to your chest
Don't wanna wait for you
Don't wanna have to lose
All that I've compromised to feel another high
I've got to keep it down tonight
And oh, oh, oh
I was a king under your control
And oh, oh, oh
I wanna feel like you've let me go
So let me go
Don't you remember how I used to like
Being on the line?
I dreamed you dreamed of me calling out my name
Is it worth the price?
Cut cover, take that test
Hold courage to your chest
Don't wanna wait for you
Don't wanna have to lose
All that I've compromised to feel another high
I've got to keep it down tonight
And oh, oh, oh
I was a king under your control
And oh, oh, oh
I wanna feel like you've let me go
I had to break myself to carry on
No love and no admission
Take this from me tonight
Oh, let's fight
Oh, let's fight
Oh, let's fight
Oh…
And oh, oh, oh
I was a king under your control
And oh, oh, oh
I wanna feel like you've let me go
So let me go
Let go, let go, let go of everything
Let go, let go, let go of everything
Let go, let go, let go of everything
Let go, let go, let go of everything