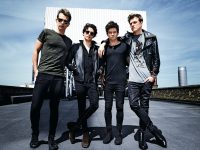 The Vamps înseamnă Bradley Will Simpson, James Daniel McVey, Connor Samuel John Ball și Tristan Oliver Vance Evans.
În 2014 au primit o nominalizare la Premiul Radio Disney Music pentru cea mai bună colaborare muzicală, dar au rămas doar cu nominalizarea. Totuși, popularitatea lor a cunoscut o creștere din 2012, momentul lansării, și până azi.
Grupul rămâne dovada că Facebook este uneori bun. În 2012, Tristan s-a cunoscut cu James și Brad via niște discuții pe Facebook și așa au ajuns să pună bazele grupului The Vamps.