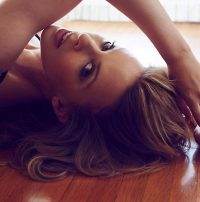 Kylie Minogue, născută pe 28 mai 1968 în Melbourne, Australia, a cunoscut succesul în muzică odată cu single-urile "Locomotion" şi "I Should Be So Lucky".
A lansat 13 albume de studio, cel mai recent fiind cel din 2015, "Kylie Christmas", însumând vânzări de peste 80 de milioane de copii în întreaga lume.
Hituri precum "Where the Wild Roses Grow", în duet cu Nick Cave, "Spinning Around", "Kids", în duet cu Robbie Williams, "On a Night Like This", "Can't Get You Out of My Head", "In Your Eyes", "Love At First Sight", "Come Into My World", "Slow" şi "I Believe in You" i-au adus lui Kylie Minogue numeroase premii.
Kylie Minogue a concertat în România de două ori, la Brașov, în cadrul festivalului Cerbul de Aur, în anul 1993, şi la Bucureşti, cu turneul "KylieX2008", pe stadionul Cotroceni.
A