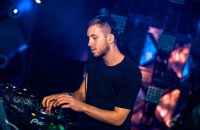 Calvin Harris, pe numele său real Adam Richard Wiles, este un producător muzical scoțian care a colaborat cu artişti de seamă precum Rihanna şi Ne-Yo.
Albumul său de debut, "I Created Disco", lansat în 2007, a fost certificat cu aur de către British Phonographic Industry, şi conţine single-urile de top 10 – "Acceptable in the 80s" şi "The Girls".
Cel de-al doilea său album de studio, "Ready for the Weekend" (2009), a atins prima poziţie în UK Album Chart şi include piesa "I'm Not Alone", care a debutat pe poziţia 1 în UK Singles Chart, hitul de top 5 "Ready for the Weekend", şi single-urile "Flashback" şi "You Used to Hold Me".
Calvin Harris deţine recordul pentru cele mai multe hituri de top 10 în UK Singles Chart de pe un singur album de studio, cu nouă piese, surclasându-l astfel chiar pe Michael Jackson. 
În 2015, DJ-ul scoţian a apărut pentru prima dată în public împreună cu Taylor Swift, la ediţia din acel an an a galei BRIT Awards, prin februarie, și fix când toți speculau că vine nunta, cam la un an și jumătate distanță de la prima apariție publică, cei doi și-au zis pa.